A snowblower is an extremely useful item to have if you live in the colder parts of the US where sidewalks and driveways often face the winter wrath in the form of snow. But while it's a great item to have in the winter, many models are large and need to be stored properly in the summer season.
If you haven't figured that out yet, here are some snowblower storage ideas.
This page contains affiliate links, and as an Amazon Associate we earn from qualifying purchases which means we receive a small commission when you make a purchase, at zero cost to you.
Snowblower Storage Ideas
1. Cabinets in the Garage
This is the first of the three most common ways of storing your snowblower irrespective of the size. In the summer season, you want to make sure it is put away safely because unlike the winter, you don't need to have easy access to the snowblower.
And in the winter season, you need the snowblower to be dry and warm enough so that you can get the snow out of your way right away. This does not happen if you leave it exposed to the outside weather.
For these reasons, storing your snowblower in a garage is a preferred option. And if you have a spacey garage, you can build cabinets in the garage and while you're at it, make a big one for your snowblower.
2. Side Entry Door in the Garage
Sometimes that is not the best option because you might not want to open the entire garage every time you want to use your snowblower. So, there is another way to get this done. Some people like to add a cabinet near the exit of the garage.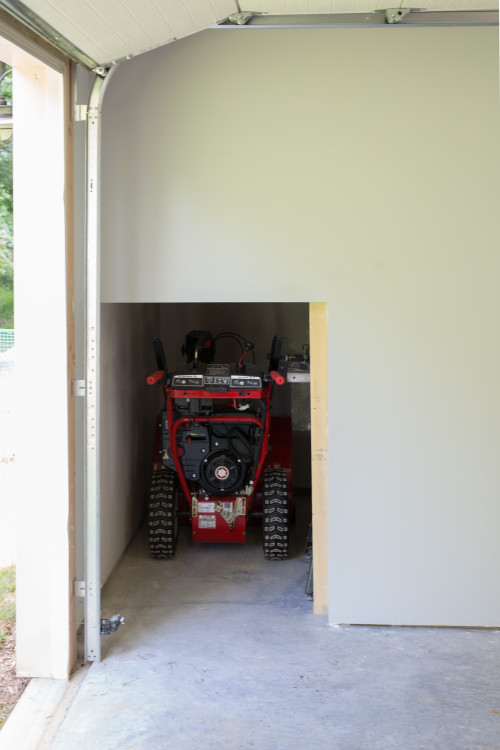 But if you can, a great idea would be to have another small door (like the one pictured above) which is meant just for the snowblower. This way, your equipment will be safe and warm inside the garage but you have an easy access door to it. This cabinet can also be used for lawnmowers.
3. Shelf in the Garage
If you are looking for a simple solution and don't mind getting a little woodwork done, here's an idea. You can add a shelf in your garage according to your snowblower's measurements. This idea works if you don't mind your equipment being visible to whoever enters the garage.
This also has another advantage. If you make a shelf with your lawnmower or any other such equipment in mind, you can place one of them on the shelf and the other (or the rest) under the shelf. It takes care of two problems at once.
4. Outdoor Tool Shed
If you don't have a spacious garage that can hold your snowblower, an outdoor shed is an acceptable idea. In fact, it comes in handy for your lawn equipment in the spring when you need easy access to them instead of the snowblower.
Getting an outdoor shed has more than a couple of advantages. Your snowblower will be safe from the elements of the weather that can cause damage to the equipment. You can also save space on the property and avoid situations like the spilling of gas or oil that will lead to stains on the property.
Meanwhile, you can also keep your garage free of clutter. This way, you can keep the equipment handy in an outdoor shed depending on the weather. And the rest can be stored in the garage. You will be able to save space and avoid maintenance due to leaks that are caused when you are using the snowblower.
If you already have a tool shed, you can just keep it next to the other equipment like shovels, mower, rakes and their accessories. But otherwise, there are other options.
5. Garden Storage Organizer
You can now buy outdoor organizers that come in many different sizes and will help you guard the equipment. These also have shelves and drawers for the accessories. Overall, they make it easy for you to access your snowblower with ease.
You can also use them to store lawnmowers in the spring while the snowblowers go back to the garage. Or, you can get a large one that fits all the maintenance equipment in it.
These sheds are designed to protect your equipment from the outside weather, including waterproofing and UV resistance. They are easy to open and can be painted and drilled into for any changes you might want to make, like adding an extra shelf.
6. Mower/Blower Platform
This one works whether you have an outdoor shed or a spacious garage. All you need to do is get a little woodwork done to make a platform. Make sure you take the measurements of both your lawnmower and the snowblower so that you don't end up with a platform that is too big or too small.
You can either make these platforms with a sturdy log of wood and four good legs or assemble them from what you can buy from a store.
7. Snow Blower Cover
This is not just to cover the snowblower inside the garage or in the outside shed. Because for one, you don't need to cover them in a garage or shed. There are quite a few varieties in the market today which will keep your equipment protected from all kinds of weather.
Now, granted that these are not the best long-term solutions. But if you are pressed for space, a good cover will keep your snowblower safe from UV light, rain and dirt too. You want to look for the kind that has straps so that you are not worried about not having nailed the cover down.
These covers are made of a durable material that protects the equipment. Now, size is an important consideration here because some of them are big enough to cover the accessories too. If you are not storing the snowblower's add-ons in the garage, you need the cover to protect them too from the weather.
So, check the seams to make sure they are taped and can protect the equipment in the face of the weather in your region. Also, check the dimensions of the cover to make sure everything you want under it fits.
Then there are click-close straps that will keep the blower and the accessories safe and snug under the cover if it gets too windy out there. Some of them are elastic to make sure that the bottom hem fits like a customized piece.
This is a convenient, affordable and practical way of keeping the snowblower safe till you find a permanent storage solution.
When you get large pieces of equipment like a snowblower, you spend a good deal of money and it is only natural to want to store them properly. That is not just from a security point of view.
Snowblowers need both short-term and long-term storage options that won't affect their performance or durability. This one is one of the temporary snowblower storage ideas out there that will keep it safe for the time being.
Parting Thoughts
A snowblower or a snow thrower is a large piece of equipment. And it is not optional depending on where you live. Well, you can always get a shovel but sometimes it's not physically feasible.
Whether you are preparing the machinery for a long summer nap or looking for options to keep them dry and functional, one of these snowblower storage ideas will come to your rescue.